Recipe courtesy of Mummy Cooks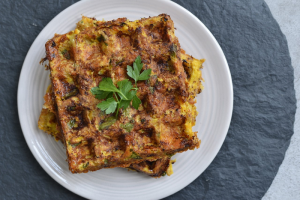 These waffles are moist, delicious and fluffy and your child will love the spices. They are perfect for when the weather is cold, but can be enjoyed any time of the year. You can swap the pumpkin for any type of squash.
Makes 6 Waffles
65g wholemeal flour
95g self raising flour
1 tsp cinnamon
1 tsp ground ginger
240ml full fat milk
1 tbsp olive oil
1 egg
60g pumpkin, baked and puréed
1. Preheat your waffle iron.
2. Mix all the dry ingredients in a bowl and make a well.
3. In another bowl, whisk the milk, oil and egg together. Add the wet ingredients to the dry and mix well.
4. Add the puréed pumpkin and stir.
5. Pour a ladle of the mixture in the centre of the waffle machine and spread a little to the sides. Cook for 3 to 5 minutes or until golden brown.
6. Serve with your favourite toppings.
Tip: Pumpkin can be baked with the skin on to save you peeling. Just make sure to remove it before puréeing!